Nomex Coveralls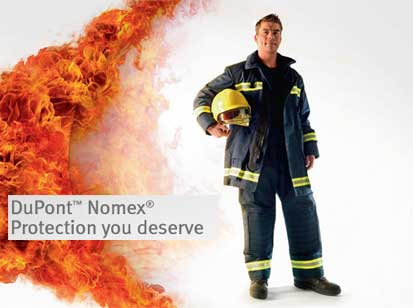 From last twenty five years industrial safety and corresponding equipments which are required have been modified a lot. Because of new developments and overall progress in chemical processes and latest chemical techniques it has become very essential to provide employees and labors modern safety equipments to keep themselves safe and away from any hazardous effects.


As an example, if working environment is very hot or if inflammable and hazardous chemicals are to be handled or else if employee is coming in contact with hot metal parts then such employees and labors must be provided with suitable safety equipments.
Cotton uniforms were being used previously which became non popular in the industry because of their high cost.and as frequent washing is required their life gets decreased. Nomex is registered trademark of Dupont. We manufacture uniforms which are made up of Nylon and as Nylon is flame retardant they are very effective in conditions described above. As the name suggests they fully cover the body, protecting it very effectively, withstanding against fire causing no harm to the user.

Features :
High protective collar with throat guard
Front zip closure covered by storm flap
Tab for Radio
Chest pocket, two thigh pockets
Single layer unlined
Elastic in back waist
Pen pocket on left sleeve
Epaulettes on shoulders
3M flame resistant retro reflective tape
Silver colour
All seams top stitched
All stress points bar-tacked
We are known for offering the best fire protective garments named Nomex Coverall that are made from Nomex fabric.
Nomex coveralls are an industry standard for petrochemicals, utilities, military applications, auto hustling, volunteer and expert fire contenders and can be utilized as circular segment streak apparel.
We are working as the main producer and provider of Nomex Coverall. The offered coverall is produced using fire resistant texture and is utilized by flame warriors for empowering assurance against blazes. It is unparalleled as far as fitting, has three layers of insurance and made in a refined assembling unit stacked with imaginative innovation machines.